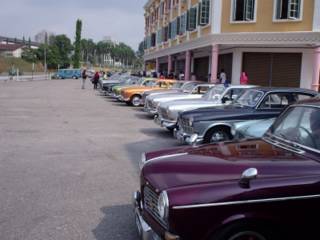 These are the twenty one Volvo classic that took part in the Tampin Run on Sunday, the 20th of June.... I took this picture at the a small town just before Tampin... That is the best I could do to get all the cars in a single shot......It look great, with all the color of the rainbow....

.....To know more about this exciting Day Run to Tampin, do read the write up at this site
In Passing - Malaysian
... Starting from June 20, to June 24, 2004...